Giving the Gift of EWTN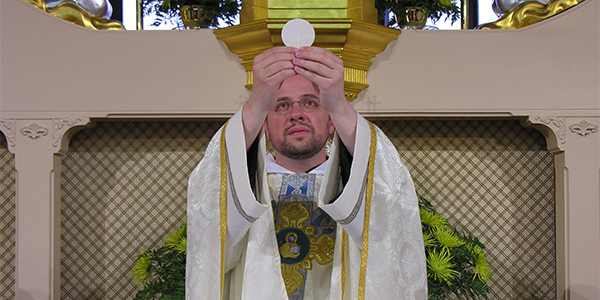 By Evan H. Holguin, FCEP
I recently had the privilege of learning more about the life of one of our EWTN Family members who passed away on Good Friday of this year.
Frances led an inspiring life of service, starting with her enlistment in the U.S. Navy during World War II and most notably lived through her vocation as a wife and mother of three. Although she was predeceased by her husband of 50 years, she is survived and remembered by her children who speak fondly of her love of EWTN.
"EWTN TV (and radio) programming was always a big part of Mom's day, from morning Mass to the evening Rosary, with litanies, chaplets, shows and news in between!" Frances' daughter, Agnes, said. "We have our TVs set to go on to EWTN automatically and we still have some of the DVR recordings Mom made and kept."
EWTN programming took on an even greater importance to Frances when the church closures of early 2020 kept her from attending daily Mass and her weekly Holy Hour. Although she couldn't be physically present, Frances still marked the time with prayer in her own home and participation in televised Masses.
"Our parish restarted daily Masses the week prior to her 98th birthday last year and she was so happy to be able to receive Our Lord, finally, on her birthday (her last one)," Agnes shared.
At love and happiness for Our Lord, especially in the Eucharist, continues to inspire her children in their own practice of the Catholic faith.
"She was always quiet about the very strong faith that was inside her," Agnes said, "even recently, she had so many notes and prayers in her papers and books. I feel like I'm visiting with her as I go through her things. We are so truly blessed that she was so sharp of mind and wit."
Frances' life of prayer fed into her generosity towards charity. Although Frances was very humble and private with her charitable giving, her family gave permission to EWTN to share her giving story to help inspire other EWTN Family members as they consider their own estate plans and charitable giving.
Frances was a longtime supporter of EWTN, and knew that she wanted to include the Network in her estate plans. She chose to do so using a simple and convenient giving method referred to as a Transfer-on-Death (TOD) Agreement.
A TOD gift is a type of beneficiary designation for investment or retirement accounts. With a TOD gift, the account transfers at the time of death and avoids the costs and delays associated with the typical probate process.
Although TOD beneficiaries can be assigned to heirs, when a charity such as EWTN is named as a TOD beneficiary, the gift is 100% tax deductible, lowering your estate's tax liability.
TOD gifts are also easy to establish and update. Simply complete a Beneficiary Designation Form from your account provider. This allows you to set up or change your beneficiaries for the account without the time or expense associated with a more complex gift arrangement.
Knowing all of the benefits of a TOD gift, Frances chose to support EWTN with this kind of estate gift. Now, her generosity is helping to support the vital evangelization needs of EWTN, allowing viewers-including her own children-to continue praying with us and growing in their faith.
If you would like more information about how to set up a Transfer-on-Death Agreement, please give us a call and one of our experienced Legacy Giving staff can answer your questions.
You can multiply your giving by sharing your story with our EWTN Family at (205) 271-4522 or legacygiving@ewtn.com. For more stories, visit www.ewtnlegacy.org.
Note: At the request of the family, names have been changed to retain privacy.