Why & How we give to EWTN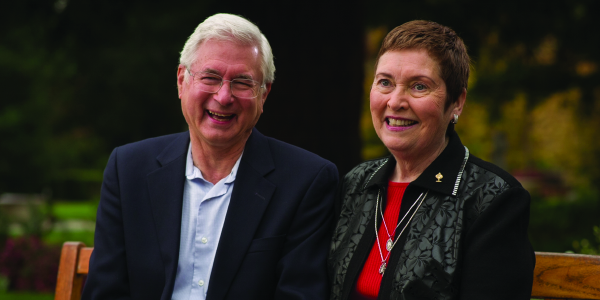 By Ryan Flood
A few months ago, we sat down with Bob and Madeline Lombaerde to discuss their experience with EWTN.
Robert first stumbled across EWTN on the radio while driving home from work one evening. When he arrived home, he and his wife Madeline turned their television to EWTN and experienced their first encounter with Mother Angelica. Mother's message that day would have a profound impact on Madeline from the very first moments.
"I remember it distinctly, Mother looked right into the camera as if she were speaking directly to me and said, 'Jesus loves you, not like a grain of sand on the beach, but really loves you as a person!' I had been a Catholic my entire life, but for the first time I really believed and understood the Lord's love for me. Since that day, EWTN programing has continued to impact our lives in so many ways;
we have learned so much about our glorious Catholic faith and the power the Faith has in transforming the lives of so many people. We contribute our financial resources to EWTN because we understand the urgent need to get the fullness of the message of the Catholic faith to the people in the world who are suffering from the lack of Truth! "As Robert is now at the age when he must begin taking mandatory withdrawals from his IRA, we decided to call Ryan Flood, EWTN's Legacy Giving Advisor, to discuss our giving plan with him. Ryan spoke with us about the qualifications for a gift from our IRA and provided us with the Qualified Charitable Distribution Letter of Instruction, which we sent to our IRA plan provider to initiate the transfer. This letter contained all the pertinent information we needed to make a gift directly from Robert's IRA to EWTN. I encourage you, too, to contact Ryan directly to discuss this very efficient giving option with him. " "Thank you, Mother Angelica and EWTN, for the impact you have made in our lives and in the lives you continue to reach by proclaiming the Truth of the Gospel!"
If you would like to learn more about the benefits of charitable estate planning, please contact Ryan Flood, EWTN's Legacy Giving Advisor, at (205) 569. 2674. You may also visit our Legacy Giving website at ewtn.giftlegacy.org.